Ghost saddles are available in standard leather, Julia leather, nubuck, oiled (greased) nubuck, synthetic Lorica, synthetic Micropell, and sheepskin. The browns range in color across materials so please ask if you're worried about color combinations. 
Leather colors are black, brown, sometimes tan, burgundy, and red. Leather will be slicker than nubuck or oiled nubuck. If you love that slicker feeling and prefer synthetic, consider Micropell
Julia leather is a bit softer with richer colors than standard leather, it will also be less grippy than oiled nubuck
Nubuck isn't listed on the saddle selection page, but you can order it in black and brown. I don't list it because it eventually smooths and shines anywhere there's contact, so becomes like oiled nubuck but not evenly over the product. 
Oiled nubuck is leather that's been roughed to make nubuck, then oiled to make a softer, almost broken-in feel which is also grippier than standard leather. It's the most popular material
Lorica is a soft but tough synthetic available in fun colors, great for a cushy seat or grippy thigh blocks. Also perfect for those who ride in wet weather or looking for a vegan option
Micropell has a heft similar to real leather, very hardy and a bit slicker like natural leather. Also a good option, especially on the flaps, for those who ride in wet weather or want a vegan option
Micronappa is thinner than micropell but thicker than Lorica, so a bit softer, grippier and it shows grain. A good option for flaps or seat, and of course vegans
Real sheepskin is also available now in four colors (white, natural, black). You can choose sheepskin for just the seat or the whole saddle but for long flap models you might consider a "wear" strip to avoid unexpected wear in high motion areas and also because not all sheepskins are big enough for the full flap. 
***************************************************************************************************************************************************************
Leather products
Leather in black brown, burgundy

Oiled nubuck 
Black / T. Moro / Marrone / Red-brown / Cognac
New Oiled nubuck colors!
These are leathers which will become even more lovely with oiling or conditioning just like the standard black/brown oiled nubuck
The top right corner of each shows the oiled color. Note, image doesn't quite show true colors, Santa Claus is really a true red.
     

 NA indicates not available

 

 

 

Lamb
NA      

 

 

Paria
NA

 

 

Black

 

 

Nude
NA

 

 

Santa Claus

 

 

Gebera

 

 

Argil

 

 

Chocolate

 

 

Coffee

 

 

Myrtle

 

 

Castle

 

 

Nocturne

 

 

 

Klein
NA

 

 
Julia Leather - high quality vegetable tanned leather, extra cost $$20 for short flap saddle and $30 for long flap (some may vary, like western)
 


 from left to right 
600 - Natural
604 - Natural/Aged
608 - DarkBrown
609 - Black

 

Inside coloring  
                               600                    604                    608                   609

Outside/sunshine 

Example of Julia 608

 
Synthetic materials
 

 

Lorica - soft and durable, extra cushy for seats

Micropell - very hardy, perfect for hard-use areas like flaps. Typically black, brown, bright blue, and
red, the others cost extra since there are minimum quantities and may not always be available.
B47, B29, A82, M58, F26, F36, F15, B99 / G07, H55, H86, G90, G83, Q14, N26, N46, N77 /
N17, C58, N72, N20, Q48, Red. Currently available - H55, H86, Red, Q14, A82.

Micronappa - softer than Micropell, a little more grippy
with a nice "grain"

Western saddle with the reddish-brown micronappa
 Here's a nifty page set up by our UK/French dealer if you're overwhelmed by all the brown options and want to know what they look like together.
| | | |
| --- | --- | --- |
| Sheepskin colors: | Nubuck (black & brown) | How about Dragon skin?! |
|   |   |   |
| gray is no longer offered |   |   |
Airshell colors for pads - plus red (see Accessories/Pads for examples)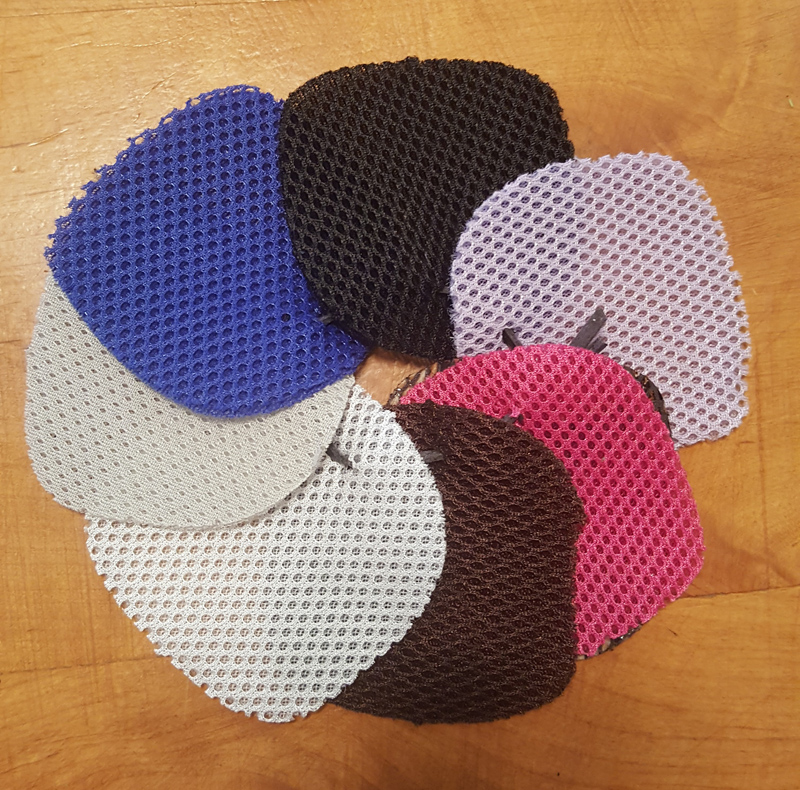 Use these zone charts to indicate color choices for your Ghost saddle if you go for the 2-tone options or a customized special request (extra charges may apply for special materials.)

For Quevis, Quilty, Roma,
Veneto, Florac, Western


Barocco


Italy


Lipica


 Heritage


 Crusader


Pioneer


Flamenco